Who We Are
The Rotary Club of West El Paso is one of over 32,000 Rotary clubs world wide that contain a worldwide membership of 1.2 million Rotarians.   With the Rotary motto of "Service Above Self",  we strive to improve our community and the world through a a variety of projects.
We welcome you to explore these pages to learn more about Rotary and our club in particular.
The Rotary Club of West El Paso supports the El Paso area through numerous projects involving youth camps and scholarships, international youth and friendship exchanges, literacy projects, and support of other non-profits.It also is involved in international projects helping communities with water, literacy, and transportation projects.         Learn More  
Cooking Classes
During Covid-19 we are finding ways to adapt and are excited to be offering cooking classes by local chefs online using Zoom.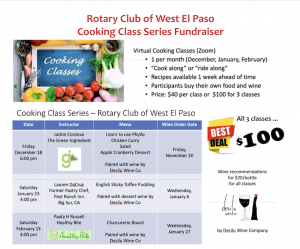 Meetings During Covid-19
Since March, we have continued our weekly meetings on Zoom so we can all stay safe.      Learn more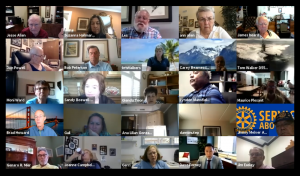 Projects During Covid-19 Pandemic
We are keeping all of our members safe during the pandemic!   In order to do so, there are some activities that we have had to suspend or postpone, notablly sponsoring RYLA campers, sponsoring foreign exchange students, hosting the Independence Day Parade,
In response to the Covid crisis, we have moved our meetings online and we have contributed money to local entities that have needs related to the Covid crisis.     Learn More
Independence Day Parade
The signature project of the Rotary Club of West El Paso is the annual Independence Day Parade on the west side of El Paso.  Unfortunately, we were unable to do this in 2020 due to the Covid-19 pandemic.    But keep an eye open.   We will continue with this and other activites after the pandemic.        Learn More  
Join Us
If you would like to be a part of Rotary, we would like to hear from you.
If you are a Rotarian, join one of our meetings, even online!
If you would like to partner with Rotary, we would love to hear from you.
Follow us on Facebook – Click Below